Is UX Research Relevant In Data-Driven Online Business?
For UX researchers to earn a seat at the table in the data-driven culture they need to demonstrate an opportunity size on solving a certain problem.
Consumers expectations for online retailers has never been higher. Any device, anytime, anywhere in the world: they want to browse, shop and move onto their next digital fix.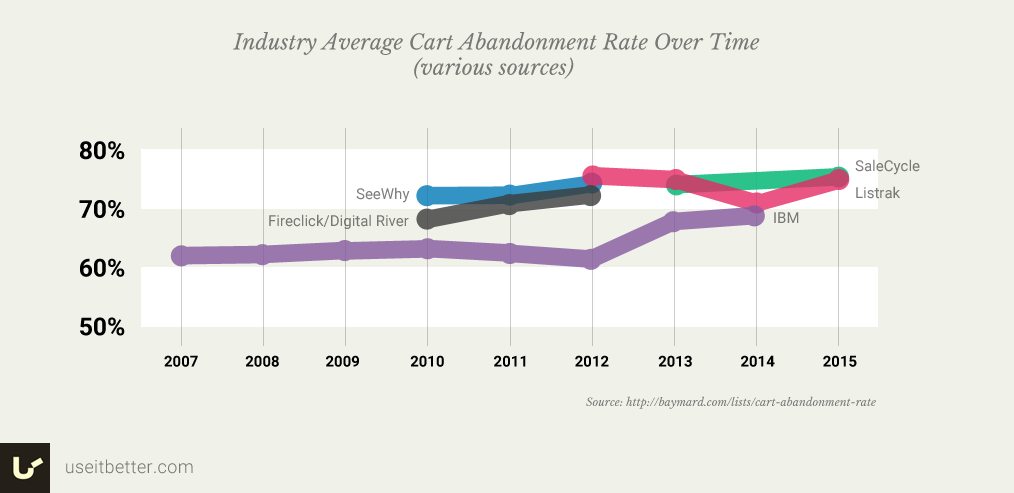 Industry Average Cart Abandonment Rate Over Time (various sources)
Consequently, online retailers are operating in a challenging environment. One reflection of this, based on 31 studies, is basket abandonment rates. With 68.53% of e-commerce carts abandoned, this is one sign that customers, more often than not, are having a poor online shopping experience. Just imagine if the same happened offline: you wouldn't be able to move in supermarkets for carts and trolleys lying discarded.
But you already know this.
Fix Versus Innovate
You also know that there are hundreds if not thousands of reasons why customers abandon carts totalling to a massive loss of revenue for your company. At the same time your company is pressured by competition to innovate and needs to balance between fixing existing problems and delivering new exciting features.
For UX research and optimization teams this is really Sisyphus work as new flaws are being layered on on top of old ones, amplifying challenges. Every lab test, every survey, every remote usability study reveals new problems.
However, not all problems that individuals have are worth solving, and even some of these that are common among customers aren't worth the effort compared to more critical flaws in the leaky pipe of an e-commerce revenue funnel. Even the largest businesses have limited resources and fixing the pipe in one place means not fixing it in another.
How difficult it is to prioritize those fixes can be illustrated by the number of failed A/B tests that online retailers conduct. Only one out of seven tests has positive impact on revenue.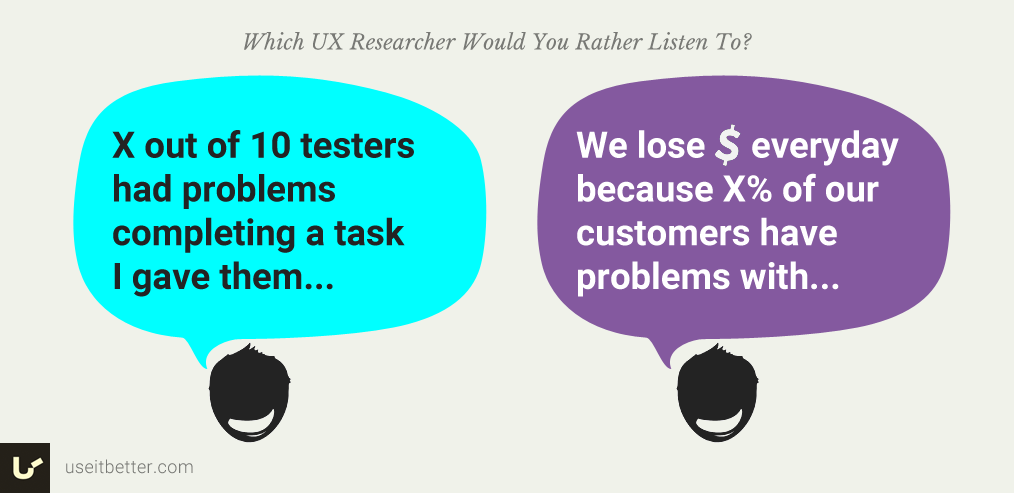 Which UX Researcher Would Your Business Rather Listen To?
Decision makers may truly believe themselves when they say that all they care about is customer experience. But at the end of the day their performance is measured in financial metrics. For UX researchers to earn a seat at the table in the data-driven culture they need to demonstrate an opportunity size on solving a certain problem, compared to the cost of not taking action.
How To Find The Problems Worth Solving?
Businesses need dollar amount metrics to understand the value of users behaviour. Whereas UX researchers are working from the perspective of explaining what users do and why they take certain actions. Merging both points of view would give e-commerce operations an answer what to do next and efficiently prioritise changes, based on priority objectives.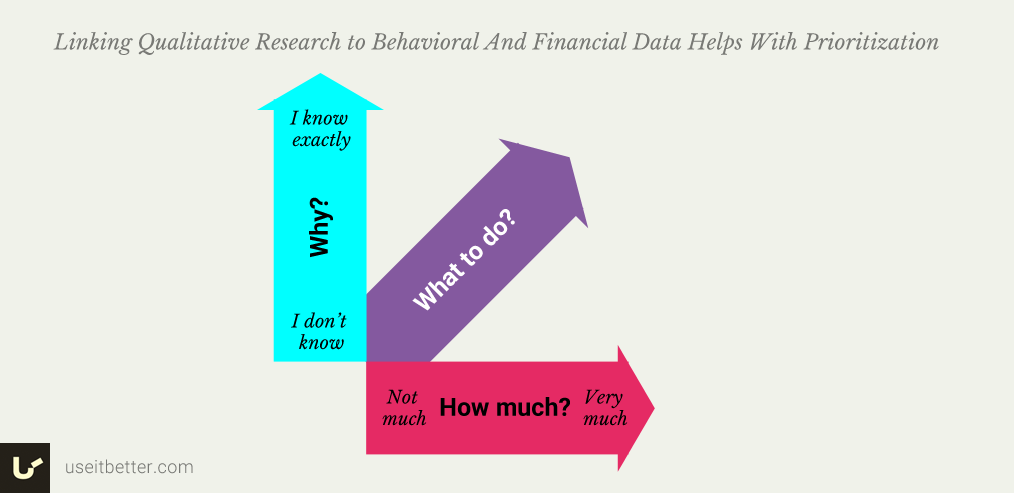 Linking Qualitative Research to Behavioral And Financial Data Helps With Prioritization
UX research should take their part of ownership of analytics from marketers and make sure that collected data can be used to explain KPIs not just report them. As web analytics get better at digitizing customer behaviors, it is now relatively easy to link observations from lab tests, surveys, diary studies to behavioral and financial data.
Empowered with analytics tools like UseItBetter, UX researchers can examine both sides of any problem: what went wrong or right, how many people are affected, what would this cost to make changes? And therefore, what would it cost if we didn't?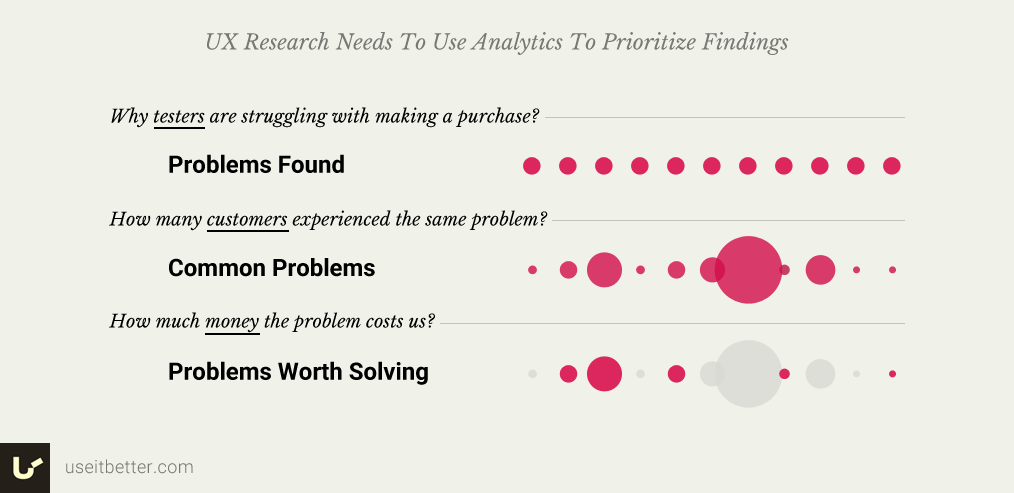 UX Research Needs To Use Analytics To Prioritize Findings
Inevitably, during website lab tests, testers will make mistakes. Not everyone will use a website as a designer or developer expects. With web analytics, you can see how many make a similar mistake. Work out what it costs.
You can do the same with online survey results. Users negatively rated their experience? Find out why. Find others who had the same problem but didn't participate in a survey. Put a value on it.
A single number is worth thousand images to your stakeholders. Make sure you have it on your powerpoint slide. Finding the problem worth solving is the only way for UX researchers to play an active role in businesses; showing stakeholders what those numbers means and why they matter is the most effective way to sell the solution.