Autotracking
What if all you had to do was build your website, and your web analytics could understand its structure as well as decipher visitor interaction and usage? You could finally figure out what users are doing on your site, not just what you expected them to do and tagged beforehand.
... and ask us how:
insights from UseItBetter helped one of the biggest retailers in UK to run A/B tests that brought millions of pounds in revenue
our optimisation platform enabled Poland's largest telecom to test and implement hundreds of changes in customer journeys
tens of insurers from all over the world generated more leads based on insights from our form analytics
No More Tagging
Free yourself and your developers from tagging what users do.

UseItBetter automated tracking eliminates the time-consuming and error-prone process of tagging visitor interactions as custom events, on which popular analytics vendors like Google or Adobe rely.
More importantly, UseItBetter enables a huge shift in web analytics - from measuring KPIs to explaining them. With UseItBetter you track what customers really do instead of tracking what you expected them to do.
Autotrack all interactions by adding a single script. You can use a tag manager to do it.

Group interactions and measure their volume and impact on conversion, revenue and NPS score.

Mix interactions with transactional, attribution or demographic data to build segments for further analyses and reporting.

Explore and explain data with tools that combine qualitative and quantitative techniques to deliver reliable insights.
Autotracking of Events
Every user interaction - a click, a change to a form field, or even a mouseover - is tracked together with information which element user interacted with. These events are formed based on the structure of your page: HTML tags, IDs and CSS classnames.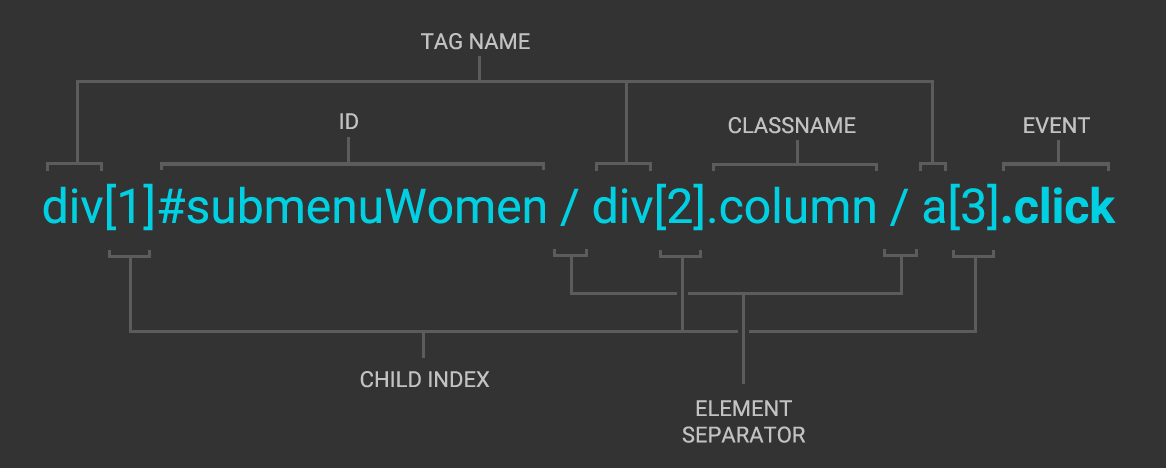 In the same way to how developers use selectors in CSS styles to make element or a group of elements look in a certain way, you can write event selectors that will match interactions with these elements.
These selectors can be used to build segments, extract usage statistics or set up triggers for A/B tests or surveys.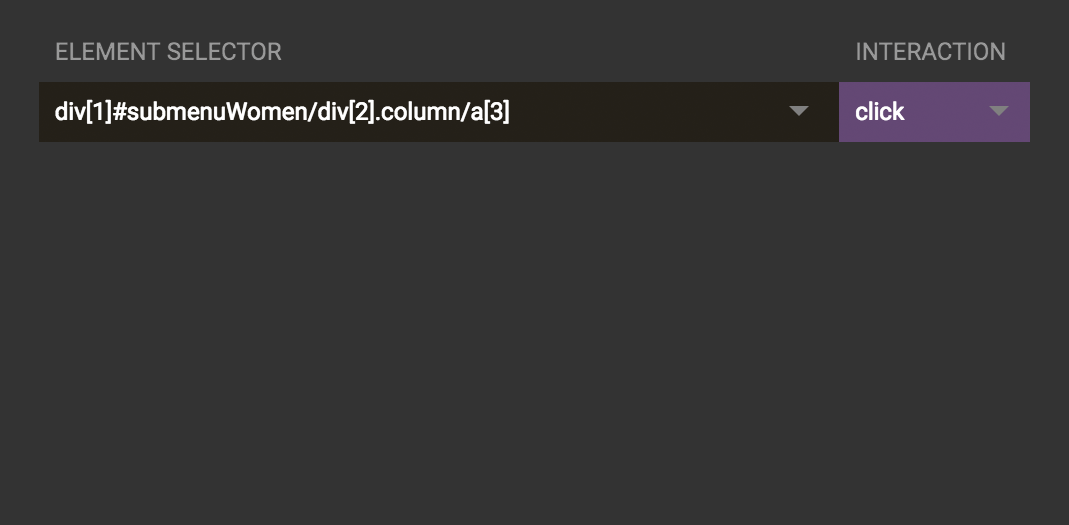 Preview Mode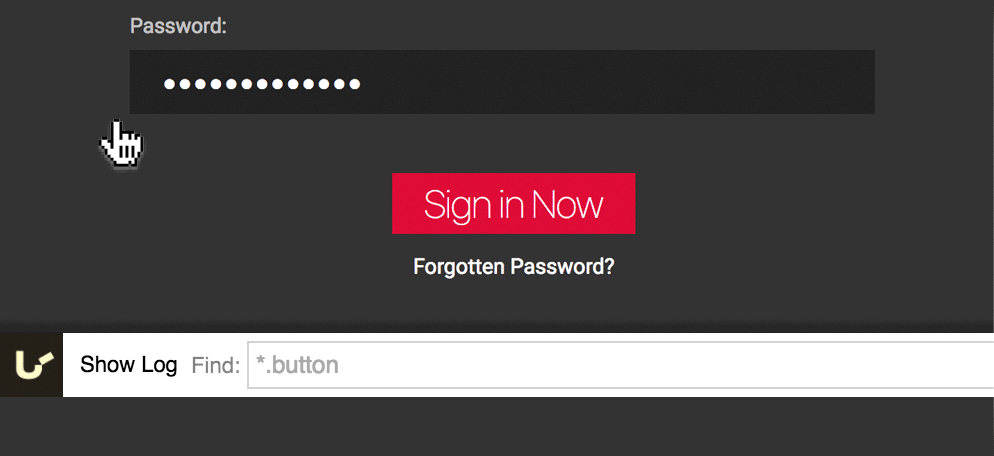 Log of Data Points
The Preview Mode log shows you what events and related data points are being tracked while you are interacting with the website. You can simply perform interactions you want to measure and copy corresponding events from the log as queries.
Visual Editor
While in the Preview Mode, you can hover over an element you are interested in. The visual editor will help you decide which parts of a selector should be preserved and which removed to match not just a single element but a group of elements.

In-Page Stats
You can even get some basic statistics for defined selectors without leaving the website.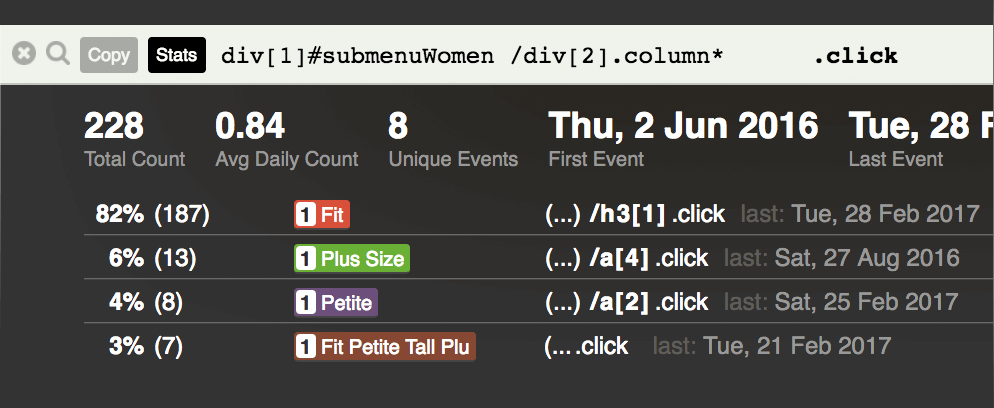 Visit Logs
For each tracked visit you can see a complete log of tracked data points. This will help you debug problems of both behavioural or technical origin by showing you its context: what users did before and after the problems occured.
Every item in the log can be measured or used to search and aggregate visits.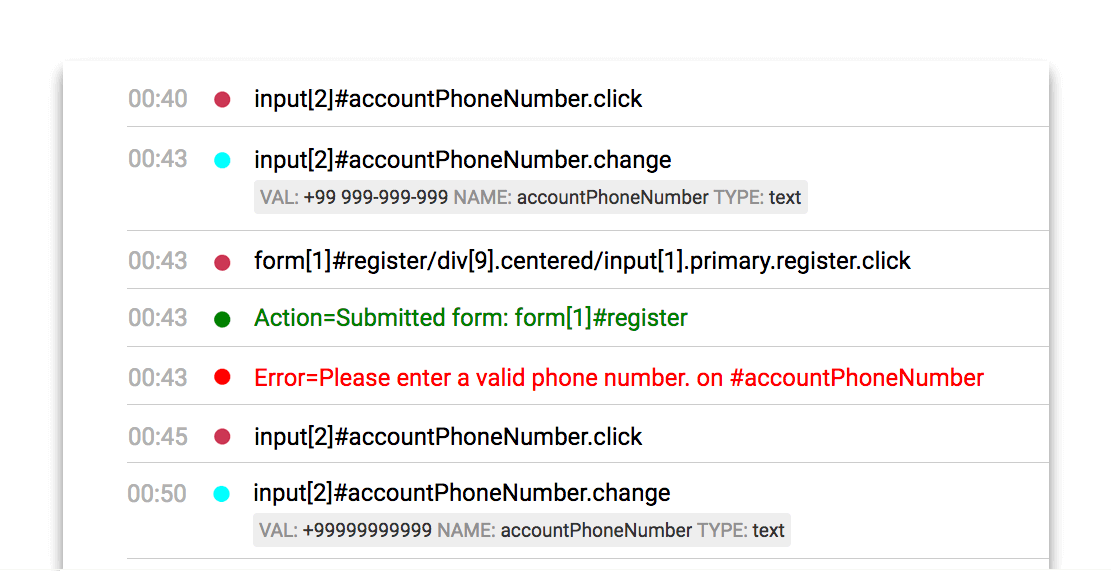 Features
Set up the tracking in minutes without making changes to your website and wasting your developers' time.

With reliable anonimisation mechanisms in place and full transparency into what data is tracked, you can be certain that no personal data is tracked.

Track tons of data, yet maintain high performance as tracking has minimal effect on loading time or site responsivness.

Browse your website and simply point and click to get basic usage statistics for any element or group of elements on the page.

Mix interactions with transactional, attribution or demographic data to build segments for further analyses and reporting.

Measure interactions over time and their impact on your KPIs: conversion, revenue or NPS.

Visualize interactions as heat maps or visit replays or form funnels to discover what to do to improve KPIs.

Use interactions as triggers to deploy personalisation, A/B tests or surveys
... and ask us how:
insights from UseItBetter helped one of the biggest retailers in UK to run A/B tests that brought millions of pounds in revenue
our optimisation platform enabled Poland's largest telecom to test and implement hundreds of changes in customer journeys
tens of insurers from all over the world generated more leads based on insights from our form analytics
"UseItBetter continues to surprise and delight me with its insights, functionality and ease of use – once you get the hang of it. It is a powerful tool that every business needs to improve CRO and usability across key points within a users' flow. I could spend hours creating different reports and segmenting the data – If only there was more time in the day!" Neil Jarvis Digital Optimisation Manager at

Greenstone Financial Services